Subscribe to newsletter
Find out about flash sales, new trips, what's new and gear giveaways.
No spam. Easy unsubscribe links are provided in every email.
8 days / 7 night

See available dates

Difficulty

Guided
Hotel
No Booking or Credit Card Fees
We rate this tour as a 3 / 5. While the days aren't particularly long, the elevation makes these days more difficult than they would be at lower elevation.
Can/US: 1-855-808-5785 UK: 0800 808 5585 Rest of World: +1 510-617-1329
SALE!
Let me know when you have flash sales.
Highlights
Explore the best of the Ecuador Andes on this guided hiking tour
Explore the mythical Llanganates National Park and search for the Inca hidden treasure.
Hike to Ecuador's most stunning glaciers and volcanoes.
Experience the culture of the locals and see the colors of the buzzing Pujili Market.
Enjoy the magical and regenerating hot springs in Baños, Ecuador.
Join this amazing guided tour and visit some of the best hiking in Ecuador. Departing from Quito, your tour will take you through the Avenue of the Volcanoes, where you'll be surrounded by some of the biggest mountains in the Andes. Explore the mind-blowing Ecuadorian Andes on this guided hiking tour.

Along the way, you'll get the chance to experience the indigenous culture of locals and learn about their traditions. This guided hiking tour of The Avenue of Volcanoes is a tremendous experience for anyone who loves the outdoors.

Ecuador is still one of the top hidden gems of South America for all adventurers and nature lovers out there. Travelers from all over the world are starting to discover just why Ecuador is so special.  This Ecuador tour gives you a rare opportunity to explore the wild and diverse nature of the Ecuadorian Andes and wildlife, while still enjoying comfortable accommodations at the end of the day.
Read more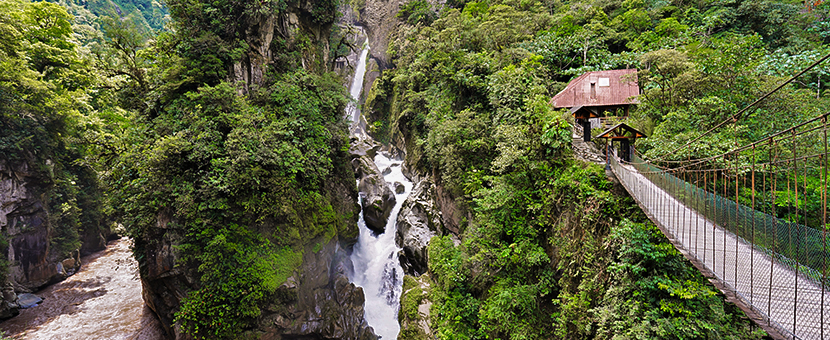 Day 1: ARRIVAL IN QUITO
Meet your head guide and the group at 6 PM.
Your guided trekking tour of the Ecuadorian Andes begins in Quito! The biggest, the largest and best-maintained colonial city of America – declared a UNESCO World Heritage Site in 1978. The city is viewed as the Cultural Capital of South America and is situated on the equator in a valley at the lower regions of the Pichincha Volcano. Depending on your arrival time, you can either explore the city and the old town of Quito or get a guided day tour. At night, one of our head guides will meet you at the reception for a briefing at 6 PM. You will be briefed about the Ecuador tour and will be able to ask questions regarding it. This day will also help you to acclimate to the new location.
Accommodation:  Swissotel Quito or similar
Meals: none
Day 2: TREKKING IN COTOPAXI NATIONAL PARK
You will start your hiking tour in Ecuador with a transfer from Quito.  You'll be hiking around the beautiful Limpiopungo lagoon (13000 ft/3800 m), in the foothills of the Rumiñahui volcano. You'll get some of the best views of Cotopaxi today, it's the highest active volcano on the planet. Keep an eye out for the opportunity to spot wild horses, wild bulls and native birds. Depending on the weather, the group may try to trek to the base camp at 16,000 ft. (4876 m), a big journey that will test your lungs! To end the day, drive to Isinlivi to your accommodation.
Trekking time: 2 hours around Limpiopungo lagoon, 5 miles, + 1,000 feet elevation gain.
Accommodation: Hostal Llullu Llama or similar
Meals: Breakfast, Lunch, Dinner
Day 3: TREKKING THROUGH THE TOACHI CANYON TO CHUGCHILAN
Your tour today are inspired by the elegant landscapes of Ecuador's Andean mountains as you trek along the Toachi canyon for 13.5 km (8.4 mi). Todays' hike will take you to stunning views and fascinating local villages and indigenous locals working in the fields. Follow the canyon of the Toachi River which will lead you to Chugchilán – a small town situated in the center of the Quilotoa loop. Accommodations tonight are in an Eco-house, and the afternoon will be used to venture through the village with the marvelous opportunity to gain a special culture experience.
Trekking time: 4 hrs, 13.5km, 400m elevation gain/loss
Accommodation: Hostal Mama Hilda or similar
Meals: Breakfast, Lunch, Dinner
Day 4: TREKKING TO QUILOTOA
Todays tour starts with an early breakfast, where an 11 km (6.9 miles) hike on small trail used by generations to transport products and reach neighboring communities.  While trekking on this trail you will often see the traditional custom of bartering goods with one another, which is still part of local culture today. Venture down into astonishing canyons and later climb back up to the top of the crater rim, where you will have magnificent views of the Quilotoa Lake. It is a really breathtaking image.  Enjoy a scenic picnic with the best views from the volcano and then transfer 2,5 hours a magical hacienda in the foothills of Chimborazo volcano.
Trekking time: 4-5 hrs, 11km, 1,000m elevation gain
Accommodation: Andaluza Hacienda or similar
Meals: Breakfast, Lunch
Day 5: TREK TO CHIMBORAZO BASECAMP
Another early morning as you drive through valleys and farming villages to reach the incredible Chimborazo Volcano – the highest mountain in Ecuador at 6310 m (20702 ft). Visiting this spectacular national park includes a short hike for 0.9 km (0.57 mi) to reach the elevation of 5000 m (16404 ft) where the glacier starts. On this hike you will see some of the native animals of this volcanic environment, such as the Andean Condor, cara-cara, wild Vicunas and hummingbirds. Enjoy a relaxing picnic at base camp before leaving.
Trekking time: 2.5 hrs, 5km, 300m
Accommodation: La Casa de Luis or similar
Meals: Breakfast, Lunch
Day 6: TREK IN THE LLANGANATES NATIONAL PARK
Today you'll explore Llanganates National Park on a 6-hour hike. This park is famous for its amazing landscapes and one local legend that says that the Inca General Ruminahui had a large sum of gold hidden somewhere in the Tungurahua mountain range. The hike starts at 3,200m (10,498 ft) above sea level and travel upwards to 3,600m (12,024 ft). If the weather is good, you can expect beautiful views of the Tungurahua and the Sangay volcanoes. After this memorable trek, head back to spend the last night in the magical town of Baños, Ecuador.  In Baños you can enjoy a nice massage, soak in the famous hot springs or enjoy the thriving nightlife of this pretty town.
Trekking time: 6 hours
Accommodation:  Casa De Luis or Similar
Meals: Breakfast, Lunch
Day 7: HIKE TO THE ROAD OF WATERFALLS AND RETURN TO QUITO
Your guided adventure takes you to the waterfalls today. The first stop will be at the Bride´s Veil waterfall, where you will take the Tarabita (cable car) to get across the Pastaza River. Then, hike down for one hour to the Pailon del Diablo waterfall, the second tallest in Ecuador and one of the tallest in the region. After a day full of adventures in the cloud forest, you will enjoy a scenic ride back to colonial Quito.
Trekking time: 2 hours, 5km, 300m downhill
Accommodation: Swissotel Quito or similar
Meals: Breakfast
Day 8: DEPARTURE DAY – END OF SERVICES
Wake up and enjoy your memories of this incredible guided trekking holiday in Ecuador while you are savouring your final breakfast.  Many guests choose to stay a few extra days and explore the stunning city of Quito or move on to other parts of Ecuador. If you're going home this day, you can book an airport transfer during the booking process
Meals
7 breakfasts, 5 lunches, 2 dinners. Budget $120 USD for meals not included.
Guiding
Fully licensed, certified English-speaking adventure leader and local guides on all days
Travel
All travel from Quito is included.
Also Included
Accommodation based on double occupancy: 3 or 4-star hotel in Quito, 3 or 4-stars eco-hotel in Isinlivi, hostel in Chugchilan, hostel in Quilotoa, 5-star Andean lodge in Chimborazo, 3 or 4-star hotel in Baños. Activities: Biking in Cotopaxi NP, Biking in Cayambe Coca ER,
Trekking in Isinlivi, 3-day trekking to Chugchilan and Quilotoa, hiking to the glaciers of Chimborazo highest volcano in Ecuador, watch vicuñas (camel similar to llama or alpaca), trek the Llanganates National Park, hiking the road of waterfall in Baños, soak in volcanic hot springs, cable-car ride in Baños, hike to Pailon del Diablo waterfall, salsa lesson, cultural experience with the local people, Pujili indigenous authentic market.
Gear: Hiking sticks
Not Included
International flights to Quito
Airport transfer in Quito
Travel insurance (mandatory)
Required Immunizations (mandatory and done in your home country)
Meals not described in the itinerary – estimated budget USD $120
Tips for guides and drivers – estimated budget USD $100
Optional Extras (you can book these during the booking process):
This could be anything, like single supplement, additional nights at start/finish, transfer from airport, rentals, etc. you often find this info by starting the booking process.
Extra night in Quito – 120USD (per person)
Airport transfer – 65USD (per taxi, up to 2 persons)
Single room supplement: USD $495
Optional day tour trips from Quito:
Quito City Tour + Equator Line- 75USD (per person)
Otavalo Market Day tour -85USD (per person)
How hard is this tour?

We rate this tour as a 3 / 5. While the days aren't particularly long, the elevation makes these days more difficult than they would be at lower elevation.

Do I need a Visa?

Check with your local country about visa requirements for travel to Ecuador. You could also try this website, though you should verify with your government.

Are meals included?

7 breakfasts, 2 lunches and 1 dinner are included; you will have to purchase the rest of the meals separately. Some of the meals are group meals and some you can go explore on your own.

Do I need insurance?

Yes, it is mandatory to have Health and Medical insurance to join this trip. You can get travel insurance here.

How do I get to Quito to start this tour?

Make your way to Quito, Ecuador yourself. The transport to Quito, nor from the airport to the hotel is not included. You can book transfers to and from the airport during the booking process.

Are the tours in English?

Yes, there will be a certified English-speaking tour leader and guide.

Where does the tour end?

This trekking adventure tour ends in Quito. Many guests stay in Quito to explore this incredible city. There are also many other very good tours in Ecuador, such as mountain biking or hiking tours in the Volcanoes.

Can I rent gear?

You don't need to, as hiking sticks will be provided. Bring your own daypack to carry a change of clothes and windbreaker or raincoat.

Do I need vaccines?

Yes, visit a travel specialist in advance of leaving for this tour to determine which vaccines are required. In many cases Yellow fever, Hepatitis B and Malaria Medication are mandatory for this trip. We strongly recommend to ensure that routine immunizations such as tetanus and diphtheria are up to date and to consider Hepatitis A and Typhoid vaccinations. Please ask your doctor for advice.
Based on 0 customer reviews

Subscribe to newsletter
Find out about flash sales, new trips, what's new and gear giveaways.
No spam. Easy unsubscribe links are provided in every email.