Subscribe to newsletter
Find out about flash sales, new trips, what's new and gear giveaways.
No spam. Easy unsubscribe links are provided in every email.
8 days / 7 night

See available dates

Difficulty

Guided
Inn and Camping
No Booking or Credit Card Fees
This tour is rated as a 5 out of 5 for difficulty, largely due to the altitude of this circuit. Acclimatization to the altitude prior to the start of the tour is recommended.
Can/US: 1-855-808-5785 UK: 0800 808 5585 Rest of World: +1 510-617-1329
SALE!
Let me know when you have flash sales.
Highlights
Experience the power of Peru's Cordillera Blanca on this 8-day guided trekking adventure
Trek in Peru's Cordillera Blanca on this stunning trekking tour.
Climb to stunning overlook points for view of spectacular snow-capped peaks.
Visit traditional Quechua villages and experience aspects of daily life there.
Hike along trails through native Andean plants, both wild and cultivated.
Imagine yourself trekking in Peru's stunning Cordillera Blanca. This trekking tour takes you through the Santa Cruz Valley north of Huarez, and is perfect for travellers who want a shorter tour that still has spectacular scenery. If you want to see some of the best trekking in Peru, you'll love this trek in Parque Nacional Huascarán.

On this guided trek in Cordillera Blanca, you will immerse yourself in the nature and culture of the Santa Cruz and Ulta valleys in the Peruvian Andes on this eight-day guided trek. Challenge yourself to climb to new heights which will be rewarded with breathtaking views of the surrounding mountains.

Follow the trail through native plants, trees, and grasslands. You will even have the opportunity to visit traditional Quechua villages to experience a taste of daily life for these native people. Spend each night camped under the stars and wake up to inspiring mountain views. This guided trek in Peru is truly an unforgettable experience.

Since most of this tour is above 3,000m in elevation, it is important to spend a few days prior to the Santa Cruz Ulta trek getting acclimated to the altitude. A 3-4 day acclimatization hike in the vicinity of Huaraz is strongly recommended.
Read more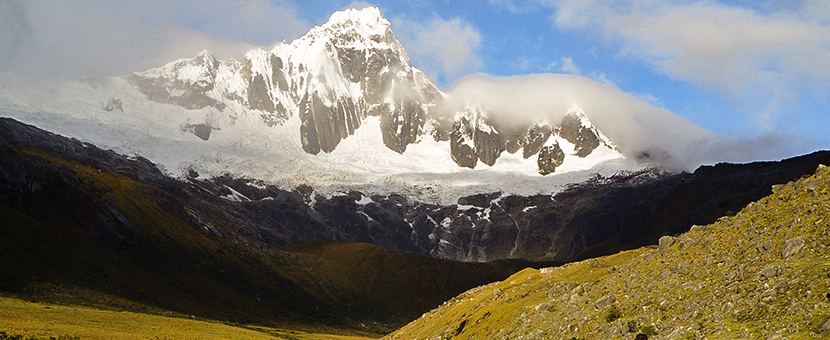 Santa Cruz Trek Itinerary
Day 1

Arrival day in Huaraz

Arrive in Huarez and check into your guesthouse. Enjoy exploring Huarez on foot as you get used to the altitude.

If you are coming from a lower elevation, it is strongly recommended to spend 2-3 days acclimatizing to the altitude, and you can book a 3-day acclimatization tour during the booking process, or you can plan your acclimatization before the trip on your own. The optional acclimatization tour you can book takes you out to some of the most beautiful hikes around Huarez.

You can also arrange bus travel from Lima to Huarez in the booking process.
Overnight Location: Morales Guesthouse
Distance: None
Meals:None
Day 2

Transfer to Cashapampa and hike to Llamacorral

Meet your transfer vehicle at your hotel for a 3.5 hour transfer to Cashapampa (2,900 m / 9,514 ft), a town just outside Huascarán National Park. The village of Cashapampa is the starting point for your Cordillera Blanca trek. A horseman and pack animals will meet you there, and after you have transferred your luggage, you will start the hike. Enjoy the trail as it wanders through native trees of the Andes in the Santa Cruz Valley. After about 4 hours of hiking, you will reach the Llamacorral campsite (3,760 m / 12,335 ft) which is your home for the night.
Overnight Location: Camping at Llamacorral (3,760m)
Distance: 3.5 hours driving, 4 hours hiking, 860 m ascent
Meals: Breakfast, Lunch, Dinner
Day 3

Trek to Taullipampa

After breakfast, continue your trek along the trail through the Santa Cruz Valley. Along the way, you will see beautiful lakes including Ichiq Cocha ("small lake") and Hatun Cocha ("big lake"). You will also enjoy a spectacular view of snow-capped peaks as you hike through the Cordillera Blanca, surrounded by native Andean flora. Continue hiking for about 5 hours until you reach tonight's campsite at Taullipampa (4,200 m / 13,780 ft).
Overnight Location: Camping at Taullipampa (4,200m)
Distance: 5 hours, 440 m ascent
Meals: Breakfast, Lunch, Dinner
Day 4

Trek to Huaripampa Valley via Punta Union Pass

Climb to new heights today! After breakfast, hike for about 3 hours up to the Punta Union Pass (4,750 m / 15,584 ft), which is one of the highest points on this tour. From this overlook, you can see a fantastic Cordillera Blanca vista, including the Taulliraju, Rinrihirka, and Paria peaks. Rest, take pictures and enjoy the view before continuing the trek for about 3 hours down to the campsite in the Huaripampa Valley (3,850 m / 12,631 ft).
Overnight Location: Camping at Huaripampa Valley (3,850m)
Distance: 6 hrs, 550 m ascent, 900 m descent
Meals: Breakfast, Lunch, Dinner
Day 5

Trek to Molinopampa via Colcabamba and Chalhua

Today is a wonderful day as you get to experience Andean village life. Begin today with a 2.5 hour hike down to Colcabamba (3,300 m / 10,826 ft) and visit the village of Huaripampa along the way. Continue walking through the Keshu Valley where you will visit the Quechua village of Chalhua. In Chalhua, you have the opportunity to meet with local residents, see their farms, and watch them perform daily activities. Keep your camera ready for this unique experience! Then, continue hiking for about 3 hours until you reach Molinopampa (3,600 m / 11,811 ft) where you will set camp for the night.
Overnight Location: Camping at Molinopampa (3,600m)
Distance: 5.5 hrs, 300 m ascent, 550 m descent
Meals: Breakfast, Lunch, Dinner
Day 6

Trek to Avalancha

Today's hike is about 5 hours of climbing from Molinopampa up to Avalancha (4,500 m / 14,763 ft). The trail leads you through grasslands and fields of crops grown by the local people of the Keshu Valley. Throughout the hike, you will have inspiring vistas of the Contrahierbas mountains before you. When you reach Avalancha, at the base of the Contrahierbas mountains, you will stop to camp for the night.
Overnight Location: Camping at Avalancha
Distance: 5 hrs, 900 m ascent
Meals: Breakfast, Lunch, Dinner
Day 7

Trek to Ulta Valley via Yanayacu Pass, then transfer to Huaraz

Get an early start on this last day of your Cordillera Blanca trekking tour. First, you have a 3.5 hour trek that takes you up to Yanayacu Pass (4,830 m / 15,846 ft) which is the highest point of your tour. From this overlook, take in the breathtaking sight of snow-capped peaks, including Huascaran, Chopicalqui, Contrahierbas, and Ulta. Pause to rest and take pictures of this viewpoint before continuing with a 3-hour hike down into the Ulta Valley (4,300 m / 14,107 ft). Here, a car will be waiting to take you back to Huaraz, with a stop in the traditional village of Shilla along the way.
Overnight Location: Morales Guesthouse, Huaraz
Distance: 6.5 hours, 330 m ascent, 530 m descent
Meals: Breakfast, Lunch
Day 8

Departure

Today you'll depart Huarez. Many guests take a bus back to Lima, though some stay on to complete another trek in the Huayhuash.
Overnight location: None
Distance: None
Meals: Breakfast
Dates and prices of Santa Cruz Trekking tour
This trekking tour in Peru is always run as a custom tour for you and your group and the price depends on the group size. Please contact us with your preferred starting date and group size so we can help you make incredible memories on this private group tour. This guided Santa Cruz trekking tour is typically run from April through September. The prices below are per person, sharing a double or a triple room:
Guided solo traveller: USD2645
Guided groups of 2: USD1525 per person
Guided groups of 3: USD1295 per person
Guided groups of 4-7: USD1125 per person
Guided groups of 8+: on request
What's included in the Santa Cruz Trek Tour
Meals
7 breakfasts, 6 lunches, 5 dinners
Accommodations
Accommodations along the trekking tour are included, as are accommodations in Huaraz before and after the trekking tour.
Transportation during the tour
This tour includes transportation at the beginning and end of the trek to and from Huaraz. You can also arrange transport from Lima to Huaraz (8 hour bus trip) during the booking process.
Also Included
English-speaking guide throughout the trip
Hotel taxes and service charges in Huaraz
Camp cook
Horseman, pack animals, and emergency horse
Camping equipment for collective use (sleeping tents, kitchen tent, dinning tent, bathroom tent, mattress, table and chairs)
Kitchen Service (all the crockery)
Celebration Meal
Park fee entrances
First Aid Kit
Luggage porterage using donkeys and/or horses
All logistics
Not included
Anything not listed as included
Flights to Peru
Transit to Huarez. First class bus ticket (bed seat) from Lima to Huaraz:

USD30

per person. Transfer from the airport to the bus station in Lima:

USD9

–

USD15

per person, depending on group size.
Personal trekking gear
Any food or beverages not listed
Personal clothing and equipment
Incidental personal expenditures, including any travel insurance, emergency evacuations and medical expenditures
Travel, personal, and medical insurance
Optional Extras
Bus Transfer from Lima:

USD30

per Person
Additional night in Huaraz:

USD85

per double room
3 day, 2 Night Pre-trip Acclimatization hikes in Huaraz:

USD400

per person
How hard is this tour?

This tour is rated as a 5 out of 5 for difficulty, largely due to the altitude of this circuit. Acclimatization to the altitude prior to the start of the tour is recommended.

Do I need a Visa?

Every country is different. It's important to check with your country to see if they require a visa. You could also try this website, though it's important that you verify with your government.

Are meals included?

The tour includes 7 breakfasts, 6 lunches, and 5 dinners.

Do I need insurance?

In order to participate in this tour, it is mandatory that you have Health and Medical travel insurance. You can get travel insurance here.

How do I get to Huaraz to start this tour?

Most guests fly into Lima and then take a bus to Huaraz. You can add on the bus trip to Huaraz from Lima during the booking process.

Where does the tour end?

The trek ends in the Ulta Valley, where you'll get a transfer back to Huaraz. You can book a bus back to Lima during the booking process.

Are the tours in English?

Yes, the tour guide is English speaking.

Can I rent any gear?

Yes, you can rent any gear you may need.

Do I need vaccines?

Check with your family doctor or a Travel Medical Clinic to confirm required immunizations or vaccines.

How will I be affected by the altitude?

The altitude on this trek ranges between 2900-4900 m. Symptoms of altitude sickness include headache, nausea, loss of appetite, difficulty sleeping, and fatigue. Consult a doctor before the trip regarding the risk of altitude sickness. Prescription medication is available to help minimize the symptoms. The best way to deal with altitude is to spend time beforehand at elevation. We recommend at minimum a 3-day, 2-night hiking trip based out of Huarez.

What kind of tents do you use?

The tents used are 3 season, 3-person tents, however tents are only shared for 2-participants. The specific tent used is typically the Doite Cara Kailas.

Can I bring my own tent?

Yes you can bring your own tent, however you won't save any money.

Should I tip a guide?

Yes, tips are optional and based on good service.

What should I bring with me?

Please try to travel as light as possible. Although you do not need to carry your luggage while walking, you will still need to carry it over short distances. Also, remember you unpack and repack on most nights.

1 backpack with a capacity of 60 to 70 L (or a similarly sized duffel bag or travel bag)
1 daypack
Sleeping bag (should be lightweight, rated to 0 degrees F., down or synthetic, and compressible)
1 warm jacket or parka
3 pairs of outdoor pants (jeans are not recommended as they are slow to dry)
Warm sweaters
Hiking socks (with optional liner socks) for walking
T-shirts, shirts, hats or caps
1 set of long underwear
Quality hiking boots that are broken in.
Spare shoes for the evenings (optional)
1 set of light rain gear such as a pant and jacket combination or a good poncho
Your own personal water bottle (at least 1 liter, preferably two bottles).
1 pocketknife or hunting knife
1 pair of sunglasses (VERY IMPORTANT!)
A supply of sun blocker or sunscreen lotion and lip protection (VERY IMPORTANT!)
Personal medications
Underwear, personal items, and toiletries
1 pair of fleece lipants
1 wool or fleece hat
Headlamp and Batteries (bring at least 2 spare sets)
1 pair of gloves (wool or shell gore-tex)

When is the best time to travel to this region of Peru for trekking?

The recommended months to travel to Huaraz are from May to September. This period is cold but dry. You should avoid travelling to this region for trekking during the rainy season as the snow makes some of the high passes impassable.
Based on 0 customer reviews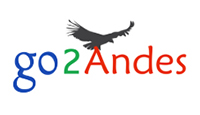 Go2Andes is a family-operated tour operator whose owners were raised in a small Peruvian village called Llamac, located in the iconic Cordillera Huayhuash in the Andes.
Nearly all of Go2Andes' guides are from the villages of the Cordillera Blanca and the Cordillera Huayhuash, and they use this deep familiarity to their advantage.
Go2Andes has led clients from over 30 different countries and they aim to become friends with each client before returning them home.
Subscribe to newsletter
Find out about flash sales, new trips, what's new and gear giveaways.
No spam. Easy unsubscribe links are provided in every email.