Subscribe to newsletter
Find out about flash sales, new trips, what's new and gear giveaways.
No spam. Easy unsubscribe links are provided in every email.
11 days / 10 night

See available dates

Difficulty

Guided
Hotels, homestays, onboard a ship
No Booking or Credit Card Fees
We rate this tour as a 3 / 5. You should be comfortable hiking on moderate terrain for up to 6 hours for several days consecutively.
Can/US: 1-855-808-5785 UK: 0800 808 5585 Rest of World: +1 510-617-1329
SALE!
Let me know when you have flash sales.
Highlights
Appreciate the magnificent culture of northeast Vietnam for 11 days
Explore the busy streets and quiet alleys of Hanoi, Vietnam's historical capital.
Kayak on Ba Be Lake, one of the 10 largest freshwater lakes on the planet.
Hike to Ban Gioc Waterfalls bordering China, recognized as being the largest falls in Vietnam.
Relax on an overnight cruise through the epic Ha Long Bay, enjoying sensational sunset views from the deck.
Spend 11 memorable days discovering the splendour of northeast Vietnam on the Trekking Northeast Vietnam Tour. Hike through off the beaten path trading routes deep in the Cao Bang region, staying in rustic homestays each night. Visit Hanoi, the city that perfectly blends chaos and calm (and coffee), and spend one fantastic night aboard a ship floating in Ha Long Bay—an idyllic and renowned location.

After spending a couple of days in the notable capital of Hanoi, the Trekking Northeast Vietnam Tour heads northeast towards Ba Be Lake for two nights on the beautiful calming waters in a homestay. Then, you'll continue to the lush area of Cao Bang to embark on a 3-day trekking journey. Return from the remote jungle and spend the last night chowing down on fresh seafood aboard a cruise among Ha Long Bay's extraordinary landscapes.

The 11-day Trekking Northeast Vietnam Tour is full of adventure, city walks, kayaking, trekking, and cruising with a captain. Oh, and you will be fuelled by some of the most delicious food worldwide. Enjoy!
Read more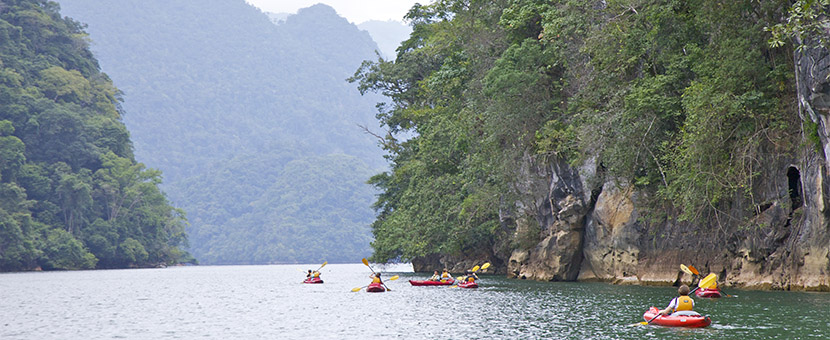 Trekking Northeast Vietnam Tour Itinerary
Day 1

Arrival in Hanoi

Welcome to Vietnam! Organize your own transportation to check-in at the hotel after 2pm. Depending on when you arrive, wander over to the city's central lake, Hoan Kiem Lake, to witness the daily buzz around its shores. Meet your guide and group at the hotel in the evening for a welcome dinner at a local restaurant and a briefing from your guide on the adventure ahead.
Overnight Location: Hotel in Hanoi
Distance: None
Meals: Dinner
Day 2

Hanoi City Walk and Food Tour

After breakfast, head out with the group for an exciting city walk around Vietnam's historical capital. Hit the highlights like the Ho Chi Minh Museum, the century-old Temple of Literature, and Hanoi's Old Quarter. Mid-morning, you'll be grateful to walk through Hanoi's coffee neighbourhood, abundant in charming and unique cafes, each with a distinct history. Later in the afternoon, after you've digested lunch, you're going on a gastronomic tour of the town. Vietnam is widely renowned for its cuisine, and tonight you'll sample some tasty dishes. Head back to the hotel at the end of the day with a full and satisfied stomach and get some rest.
Overnight Location: Hotel in Hanoi
Distance: None
Meals: Breakfast, lunch, dinner
Day 3

Boat Cruise in Ba Be Lake

Once you've filled up on breakfast, the crew will travel to Ba Be, where three lakes join together to form one of the largest freshwater lakes in the world. The sights around the lake are best viewed by boat, so once you arrive, you'll hop in for a leisurely cruise on the lake before landing at the village. While cruising around, you'll be immersed in the most beautiful shades of green, from the lake waters to the lush forest on the shores. When you dock, you'll have some free time to stroll around before settling into your homestay for the night.
Overnight Location: Homestay in Ba Be
Distance: None
Meals: Breakfast, lunch, dinner
Day 4

Kayak Ba Be Lake

Rise early on the shores of Ba Be Lake, then follow your guide to the dock—you're going for a kayaking adventure today. Paddle down the Nang River, which is home to the Puong Caves, then stop near some impressive waterfalls for a picnic lunch. Take your time as you paddle among this breathtaking scenery. Continue kayaking on the river until you connect with Ba Be Lake once more and hug the shoreline, checking out all the different sections of this beautiful place. Head back to the homestay in the evening for dinner and rest.
Overnight Location: Homestay in Ba Be
Distance: Kayaking 5–6 hours
Meals: Breakfast, lunch, dinner
Day 5

Travel to Cao Bang and Pac Bung

After breakfast, pack up your things and load in the van to drive to Pac Bung village, where your homestay hosts will be waiting for you. This area is home to different ethnic groups, including the Thai and Nung peoples. You'll be exploring this area on foot over the next few days, so for now, settle into your homestay and relax in preparation.
Overnight Location: Homestay in Pac Bung
Distance: None
Meals: Breakfast, lunch, dinner
Day 6

Trek to Na Ran Village

Fuel up on breakfast as you have a challenging day of hiking ahead. Set out into a bamboo forest among the captivating limestone peaks, and as you climb higher above sea level, the views become even more incredible. Mid-afternoon, descend into the Na Valley, encounter the local Tay and Nung communities, and then stop for a picnic lunch. Continue on the Bac Vong River path, which has an inviting waterfall where you can take a refreshing dip. The end of today's journey includes a short bamboo raft trip to reach Na Ran village. Meet your homestay hosts and settle in for the night.
Overnight Location: Homestay in Na Ran
Distance: 20 km, 5–6 hours, 855 m of ascent, 791 m of descent
Meals: Breakfast, lunch, dinner
Day 7

Hike to Po Tau

Hang out around the village for breakfast and say hello to some villagers. Today, the trek leads you over a pass into the Cao Thung Valley and up to Ban Viet Lake—enjoy an invigorating swim if the mood strikes. Walking the rest of the way through terraced rice fields and agricultural plantations of tobacco and corn, you will reach Po Tau and stay for the night.
Overnight Location: Homestay in Po Tau
Distance: 17 km, 4–5 hours, 742 m of ascent, 756 m of descent
Meals: Breakfast, lunch, dinner
Day 8

Explore Ban Gioc Waterfalls

Po Tau has a superb market that you can explore around breakfast time before setting off for the day. Hike along local trade routes with unbelievable views of the misty, magical, limestone mountains around you. Complete the day with a break at Ban Gioc Waterfalls, the largest in Vietnam, shared with China as they sit on the border. This fairy-tale sight will wow you, so snap a bunch of pictures to look back on this beautiful place. The trek ends after the visit to the falls, and your guide will take you to Lang Son for a well-deserved night's sleep in a hotel.
Overnight Location: Hotel in Lang Son
Distance: 16 km, 4–5 hours, 112 m of ascent, 206 m of descent
Meals: Breakfast, lunch, dinner
Day 9

Embark on Ha Long Bay Boat Cruise

From Lang Son, you'll be in the car after breakfast for about 4 hours to reach Ha Long Bay. This UNESCO World Heritage Site comprises about 1900 islands of limestone peaks jutting out from the blue-green ocean. Greenery covers each peak, and with the backdrop of blue skies and sunsets, the scenery is magnificent. Depart on a boat cruise through Ha Long Bay, enjoy fresh seafood meals onboard, and witness an extraordinary sunset from the ship's deck. Settle into the sleeper cabin for the night and let the lulling waves rock you to sleep.
Overnight Location: Overnight on Boat in Ha Long Bay
Distance: None
Meals: Breakfast, lunch, dinner
Day 10

Return to Hanoi

You won't regret rising early today to view the sunrise—the colours will astound you, and the early wake-up call will be worth it. Your captain will navigate the boat back to the mainland through the remarkable landscape, then meet your driver to return to Hanoi. Spend your last evening of free time exploring the buzzing city, having bia hoi (fresh beer) on beer corner, and filling up on delicious street food.
Overnight Location: Hotel in Hanoi
Distance: None
Meals: Breakfast
Day 11

Farewell

Say your goodbyes at breakfast to your trekking Vietnam crew. Pack up and sort out your own transportation to the next leg of your journey, either to the airport or elsewhere.
Overnight Location: None
Distance: None
Meals: Breakfast
Trekking Northeast Vietnam Tour Price and Dates
This guided tour in Vietnam is run as a fixed-departure tour where you'd be joining a group, however, custom private tours can be organized for those willing to travel with their group only (please contact us with your preferred date and the number of people in your group and we will create the itinerary just for you).
Prices below are per person, sharing a double or a triple room and apply to the 3-star hotel package. Please note, that you can upgrade to 4-star hotels for an additional fee of USD110 per person.
What's included in the Trekking Northeast Vietnam Tour?
Meals
10 breakfasts, 8 lunches, and 9 dinners are included.
Accommodations
Accommodation for 10 nights is included.
Transportation during the Tour
Transport for you and your luggage is included throughout the tour.
Also Included
Entrance fees for special areas mentioned in the itinerary
Boat rides mentioned in the itinerary
Kayak rental and life jacket
Not included
Meals and drinks not mentioned in the itinerary
International and domestic flights
Visa fees upon arrival in Vietnam
Insurance
Anything not mentioned as "included"
Tips and personal expenses
Optional Extras
Extra nights in Hanoi before or after the tour
Airport transfers
Upgrade hotels to 4-star
Based on 0 customer reviews


Easia Active is a subsidiary of Easia Travel, a boutique tour operator based in South-East Asia, and dedicated to sharing the best active adventures in Vietnam, Laos, Cambodia, Myanmar and Thailand. Easia Travel was founded in 2000 in Vietnam, with a vision to "Make Asia Easy for You!" by allowing guests to experience the best of Asia. Find great hiking, cycling and other active adventures in SE Asia with Easia Active.
Subscribe to newsletter
Find out about flash sales, new trips, what's new and gear giveaways.
No spam. Easy unsubscribe links are provided in every email.