Subscribe to newsletter
Find out about flash sales, new trips, what's new and gear giveaways.
No spam. Easy unsubscribe links are provided in every email.
4 days / 3 night

See available dates

Difficulty

Guided
Hotel
No Booking or Credit Card Fees
We rate this tour as a 3 / 5. For many guests this is the longest bike ride they've ever done. Should you get tired you can ride in the van for parts of the tour, such as up and over high mountain passes.
Can/US: 1-855-808-5785 UK: 0800 808 5585 Rest of World: +1 510-617-1329
SALE!
Let me know when you have flash sales.
Highlights
Fully supported bike tour on the Icefields Parkway.
Cycle the Icefields Parkway, one of the most scenic roadways in the world, as it passes through two of Canada's most famed National Parks: Jasper and Banff.
Experience the world class mountains towns of Banff and Jasper, and all the beauty that surrounds them
Spot wildlife along the bike route. Depending on the time of year, you may see elk, bighorn sheep, and bears among other types of wildlife
Ride through Bow Pass - a challenging ride but with one of the most scenic rewards; a stunning view of Peyto Lake far below
The road bike ride from Jasper to Banff is one of the world's best bike rides. Joining this fully-supported tour means you don't have to drag a heavy, pannier-filled bike along this trip. Instead, you have a support van full of great snacks, clean clothes and spare parts in case you have a mechanical breakdown.

This is an experience to last a lifetime, and biking along the Icefields Parkway is perhaps the best way to explore this incredibly wild part of the world. Beginning in Jasper, you will cycle through valleys, past mountains, beside lakes, and view stunning waterfalls. Along the way, the support van and driver will show you special overlooks, viewpoints and other highlights along this incredible ride. You'll also have great snacks and meals, with regular stops where you can recover some strength and eagerly share the excitement of the beautiful country you have just ridden through.

While each day is spectacular, the ride to Lake Louise on Day 3 is especially rewarding, and typically the group takes an evening trip to Moraine Lake and Lake Louise for spectacular views as the sunsets. It really doesn't get any better. Except it does, the last day ride into Banff has stupendous views along Vermillion Lakes, and is a triumphant end to an epic adventure. If you are in reasonable fitness and like riding a bike, you can probably do this trip!
Read more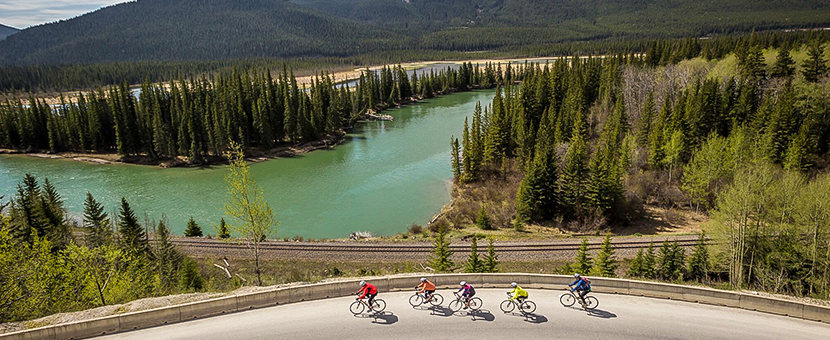 Day 1: Transfer to Jasper from Edmonton/Jasper to Sunwapta Falls
If you are flying in for this great trip, arrive the night before. Early the next day you will be picked up at your Edmonton Airport hotel for your transfer to Jasper, Alberta. Other guests will meet in Jasper. Once in Jasper you will start with a route briefing and safety reminder, then you will ride out along the Icefields Parkway from Jasper to Sunwapta Falls. You will get a rest and time to view Athabasca Falls, a spectacular and popular attraction. The day ends with a 3-course meal at Sunwapta Falls Hotel.
Overnight: Sunwapta Falls
Distance: 56km
Meals: Dinner
Day 2: Sunwapta Falls to Saskatchewan River Crossing
Today is the longest day on the bike, as you will cycle nearly 100 Km. Fortunately your day starts with a big breakfast at Sunwapta Falls Hotel. From there you will cycle past Tangle Falls and stop for lunch beneath Columbia Icefields before heading through Sunwapta Pass and the Weeping Wall. After a few more rolling hills you will be enjoying a cold drink and another great meal under Mt Wilson at the Crossing Resort.
Overnight: The Crossing Resort
Distance: 98km
Meals: Breakfast, Lunch, Dinner
Day 3: Bow Pass to Lake Louise
Today is a spectacular bike ride, so eat a hearty breakfast and start early. The day begins with a climb but soon levels out with sweeping views of mountains, glacial lakes, and wildlife. Before lunch you will conquer the final challenge of the trip – Bow Pass, which gives way to unparalleled views of Peyto Lake and the valley you just rode through. After a well-deserved lunch at the stunning Bow Lake, you will roll your way down to Lake Louise and the lovely Mountaineer Lodge. If time allows, the group will make a trip up to Moraine Lake and/or Lake Louise after dinner, enjoying the stunning alpenglow on these spectacular lakes.
Overnight: Mountaineer Lodge
Distance: 85km
Meals: Breakfast, Lunch, Dinner
Day 4: Lake Louise to Banff or Canmore
The final bike ride to Banff (or Canmore) is a breeze compared to the last few days. You'll be riding along the historic Bow Valley Parkway, a fine road with pretty views. No big hills await today, and you will pedal along rolling hills and flats, where you have abundant opportunity to take in the surrounding views. After a break under Castle Mountain, you will ride into the world-renowned town off Banff, going past the stunning Vermilion Lakes. Many of the group will end their journey here, though you can also extend an extra 25 km on a dedicated bike path to the lovely town of Canmore. The support van will continue on to Calgary and Edmonton Airports
Overnight: n/a
Distance: 50-70km
Meals: Breakfast, Lunch
This tour is based in Hotels. Note that one is picked for the entirety of the trip, not day by day.
Hotels on this trip are 2 and 3-star hotels, and offer modern conveniences that can make this trip more pleasant. Rooms may have fireplaces or access to amenities such as hot tubs, steam rooms, or private decks to lounge on. Rooms are double occupancy, and single travelers will pay a supplement.
Single Rooms and Solo Travelers
You can pay a supplement to have a private room in a hotel. Contact us and we can try and match single travelers up, where possible.
Night 1
Athabasca Falls Hostel ★★★★
Guests often rate this as the nicest hostel along the Icefields Parkway.  Enjoy a great common room with modern cooking facilities, deck, BBQ, and fire pit.  Most rooms are dormitories. There is no indoor plumbing, toilets are outside but no showers.  You can often get cell phone service while on the property.
Night 2
The Crossing Resort ★★
Serving customers for 70 years, the Crossing Resort is a laid back, seasonal resort providing a comfortable night in the wilderness. Rooms come with Wi-Fi, satellite TV and minifridges, as well as tea and coffeemakers; some have mountain views and whirlpools. The patio at the pub is a great place to enjoy the sunset after an epic day riding the Icefields Parkway.
Meals
3 breakfasts, 3 lunches, 3 dinners, snacks along the route each day.
Accommodations
Accommodations for 3-nights along the tour. Accommodations before the tour in Jasper and after the tour in Banff or Canmore are not included.
Transfers to Jasper and from Banff
Transport for you, your luggage and your bike to Jasper from Edmonton on day 1 and return transport to from Banff to Edmonton via Calgary (and drop-offs for Calgary International Airport) on day 4.
Van Support
Customized bicycle support van support along each days ride, national park fees and driver. You'll meet-up for regular stops for snacks each day.

USB Disk
Get great memories as your driver will take action shots of you and the group along the tour. You'll be provided with a USB disk on the last day.
Not included
Flights to get to Edmonton or out of Calgary.

Bikes are not included, though you can rent one during the booking process

Transfers from Edmonton Airport to a local Edmonton hotel

Accommodations before the tour in Edmonton or Jasper or after the tour in Banff or Canmore.

Breakfast on Day 1, lunch on day 1 and 4

Tour Guide Gratuity. It's o

ptional but appreciated and customary in Canada for good service.
Any additional non rider activities
Alcoholic drinks not included in evening meals.
Optional Extras
Single supplement in hotel: $295 USD
Additional night accommodation, breakfast and airport transfers the day before tour in Edmonton – $150
Airport transfers for arrival flight = $40 per shuttle depending on availability.
Rental Bike for 4 day tour = $165 + 5% gst. (Felt VR30 model road bike, carbon fork, aluminum frame, hydraulic disk brakes)
How hard is this tour?

We rate this tour as a 3 / 5. For many guests this is the longest bike ride they've ever done. Should you get tired you can ride in the van for parts of the tour, such as up and over high mountain passes.

Do I need a Visa?

Check with your local country about visa requirements for travel to Canada. You could also try this website, though you should verify with your government.

Are meals included?

3 breakfasts, 2 lunches and 3 dinners are included.

Do I need insurance?

Yes, it is mandatory to have Health and Medical insurance to join this trip. You can get travel insurance here.

How do I get to Jasper or Edmonton to start this tour?

Make your own way to Jasper or Edmonton to start this tour. If you want to start in Edmonton, arrive the day before. You will get a transfer to Jasper on the support Van. The transfer from the airport to your hotel is not included.

Are the tours in English?

Yes, the Van driver / tour leader is English speaking (and a heck of a lot of fun!)

Where does the tour end?

The tour ends either in Banff or Canmore, depending on how far you want to ride. Many guests spend additional time in the Banff / Canmore region. The support Van continues back to Calgary International Airport (YYC) and then Edmonton International Airport (YEG) should you want to fly out. It is recommended to fly out late out of Calgary or Edmonton on your last day of the tourus before booking your flight out to confirm what time we will make it to your airport. The tour typically drives through Calgary between 2-4pm and Edmonton 6-7pm.

Can I rent a bike?

Yes, you can rent a bike during the booking process. If you bring your own bike, it should definitely be a road bike. Rental bikes are Felt VR30 road bikes or Electric Pedal assist bikes.

Can I bring my own bike?

Yes, definitely. Please make sure it's a road bike.

Do I need vaccines?

Vaccines are not typically required for travel to Canada, but check with your family doctor.

What are the optional extras that will add to the advertised cost of the tour?

There are few optional extras, and include bike rentals, airport transfers, alcoholic drinks, additional activities (such as hot springs, gondola rides), accommodations before or after the tour, gratuity.

How do I get back to Jasper after the tour?

If you need to return to Jasper at the end of the tour, local transportation options such as Brewster and Sundog run a daily service from Calgary through Canmore, Banff, and Lake Louise to Jasper. Please check their respective websites for timetables and pricing information. If bringing your own bike and looking into this option you will likely need to pack it up into a box for these shuttle services back to Jasper. We can provide high quality rental bikes to help save you this hassle if you prefer.

What is the usual group size?

The usual group size is up to 11 people, which keeps these tours small and intimate.

What is the elevation profile like? Will there be lots of climbing and descending?

The tour starts at around 1000m above sea level in Jasper and finish at about 1400m above sea level in Banff. There are two high passes to cross between these two towns on the four-day tour. These mountain passes are about 2000m above sea level. Most of the climbs with the exception of one are gradual at an average of 4 – 5%

Is this a mountain bike tour? Will we be riding off road?

No. This bike tour will be riding along the Icefields parkway (Jasper to Lake Louise), Bow Valley Parkway (Lake Louise to Banff) and the Legacy Trail bike path (into Banff and onto Canmore). These are paved (sealed) roads not accessible to through truck traffic but used by sightseeing tourists in cars and RV's. There is a wide shoulder adjacent to the driving lanes along 90% of the route. The pavement is in good condition for the majority of the way although subject to change each season. In the few sections where the shoulder narrows the guide will aim to notify the group of the upcoming conditions and give advice on safe riding technique so that we can safely share the road with other traffic. For some parts of the tour you may have to ride single file in order to share the road with other users.

What type of bike should I bring on the tour?

A road bike (thin tires) is the most efficient bike for this tour, giving you the most speed for minimum effort. There are a number of hills and climbs on the route so a bike with appropriate gearing for your fitness and strength level is also recommended. A cross bike, cruiser or even mountain bikes are okay although we recommend you install slick tires (rather than the knobbly mountain bike tires) before the tour to make your life easier. If you rent a bike through us it will be a lightweight road bike with thin tires, appropriate gearing, drop down handle bars.

What type of mechanical support is available during the tour?

While it is your responsibility to ensure your bike is in sound mechanical shape prior to the tour departing Edmonton, our guides do have basic mechanical skills and we will have the necessary tools on board the bike trailer for basic repairs such as replacing tires, tubes, fixing broken chains, tightening loose components, etc. We may not however have specialized or unique replacement components onboard or very specific tools required for more complicated repairs. If you are bringing your own bike we strongly recommend you take it to your local bike shop for a thorough pre-tour inspection. If you are renting a bike from us this will be taken care of for you. We will aim to have a spare bike in the trailer if space allows to swap out in the case of a repair being too complicated to fix enroute.

How far is it between Jasper and Banff?

It is 288 km between Jasper and Banff.
Based on 0 customer reviews

Subscribe to newsletter
Find out about flash sales, new trips, what's new and gear giveaways.
No spam. Easy unsubscribe links are provided in every email.